We are currently CLOSED with exception to emergency cases with strict guidelines set by DORA.  Although we are considered "essential" practitioners, our state licensing and regulatory agency has restricted all chiropractic procedures to limit contact from person-to-person. We sincerely apologize as we are truly here to serve our community and help at a time when stress and our bodies are experiencing a lot. Please contact us via website contact forms, our clinic phone at 720-242-6251, or via text message at this number and we will get back with you.
---
Denver chiropractor Dr. Todd Williams strives to provide his patients with a wide range of conservative chiropractic pain relief treatments to the communities of Edgewater, Lakewood, and Wheat Ridge. Our advanced chiropractic and massage protocols utilized in the clinic help patients recover quickly but also providing long term benefits. Dr. Todd's passion is to provide a holistic, non-invasive chiropractic clinic to allow people to get back to doing what they love without the need for drugs, injections, or surgery.
Every chiropractic patient is different, which is why we personalize treatment based on initial exam findings and what the current needs of the patient are. Our noninvasive, balanced chiropractic approach to treatment will help relieve your pain and get you back to your normal activities faster. We offer a variety of treatments including massage, muscle rehabilitation, chiropractic adjustments, traction, electrical stimulation, muscle release techniques, and much more.
---
Common Conditions: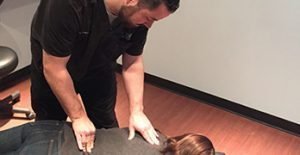 Nerve Pain
Numbness
Pregnancy related pain
Our chiropractor is conveniently located on Sloan's Lake in Edgewater, Colorado, between Denver, Wheat Ridge and Lakewood. Core Family Chiropractic offers personalized and compassionate care from our chiropractor and massage staff. We look forward to helping you with your health and pain relief goals.
If you have any questions regarding care at the office, please contact us via the website or clinic phone number and we will gladly answer any questions or concerns you may have.