There are many people around the communities of Edgewater and Denver that have questions regarding what happens during a course of treatment at our clinic.  People that are unfamiliar with chiropractic are often the ones with the biggest misconceptions about what happens.  The most common question relates to the "popping" or "cracking" sound that is produced during an adjustment.
Do all adjustments produce an audible sound or noise?
The simple answer is no.  There are numerous techniques in chiropractic and some do not produce an audible noise.  These are typically instrument adjusting techniques or low force techniques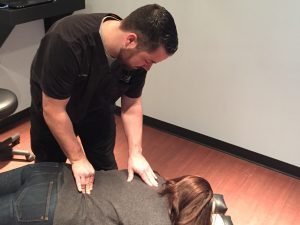 for those that do not like twisting in certain regions of the body.  Certain chiropractors only perform these kinds of treatments and others pull from a variety of techniques to use what best works for their patients.
Dr. Todd Williams with Core Family Chiropractic performs multiple techniques incorporating hands-on adjustments (that typically produce audible sounds) and also instrument and low force techniques that do not involve any sounds or twisting of the neck or low back.  It is important the patient is comfortable with the doctor and the treatment provided so all options are reviewed before treatment begins.
Does the popping sound mean that something was accomplished with the chiropractic adjustment?
Another common question that is frequently asked by chiropractic patients in Denver.  This popping sound is a "cavitiation" in a joint due to the pressure changes that occur when moving a joint through a certain range of motion.  The change in pressure releases gas from the joint and creates a popping sound, which generally feels great in most patients.  In most low force techniques and instrument adjusting techniques, this does not occur but it does not mean that an adjustment was not accomplished.  Chiropractors look for restricted movement in the spine and adjust, or produce movement, where there isn't.  Chiropractors feel and test the joints they are performing treatments to before and after the adjustment is performed to ensure that proper motion dynamics were accomplished.
Is twisting of the neck involved with adjustments?
Many people are hesitant about twisting of the neck region to perform cervical adjustments.  I've had patients worry about breaking the neck, often like you see in the movies.  Cervical adjustments are very safe and effective, and this is often reflected in the low malpractice cost to chiropractors.  If it were common to injure someone's neck or produce serious side effects, malpractice would be through the roof.
Some people still worry and tense up when thinking about it.  There are techniques for adjusting the neck that do not involve rotation and many that the patient lays flat on the table face down throughout the whole adjustment process without having to rotate any part of their body.
Is an adjustment the whole treatment?
This is completely dependent on the condition.  Most times, the chiropractic adjustment is the primary treatment that will be performed.  Supplemental treatments can be applied based on the specific case of the patient.  Many chiropractors, including Dr. Williams, utilize a diverse range of treatment options including hands-on muscle work and muscle release techniques, traction tables, electrical stimulation, assisted stretching, physical therapy and rehabilitation, activity modification, ergonomic advice, and at home care.  Any of these may be added to a treatment plan to not only accelerate results, but to make them long lasting.
If you have any questions regarding what treatment may be like for you, please feel free to contact Dr. Todd Williams, D.C. by email or phone at 720-242-6251.